As winter approaches, many cyclists try their hand at cyclocross, a winter discipline that helps athletes prepare for the start of a new season.
Shorter, but very intense
Cyclocross is a discipline which, unlike what you might think, has very ancient roots, just like road cycling. Already at the beginning of the 20th century, cyclists would ride on grass with their bicycles during autumn and winter to test their muscular strength and to train for the long climbs of the following months.
Today, cyclocross is widely practiced in Italy and throughout the world, with many competitions and a number of professional cyclists who take part in this discipline in winter. The bikes are similar to road bikes, but with substantial differences: the tires are bigger, the brakes are made to allow better mud evacuation and the frame is more robust. It is a very difficult sport where cycling occurs on terrain that is often muddy and therefore heavy; cyclocross races last much less than typical cycling races, but the athletes' exertion is constant.
Of course, cyclocross can be for anyone; it's for enthusiasts of all levels who want to keep active in winter by pedalling in close contact with grass, dirt and mud.
Where can you train in cyclocross? In cyclocross bike parks and on permanent routes. Let's discover some of the most beautiful places in Italy to practice this discipline.
Bike Off Road, where you can even cycle at night
The Bike Off Road bike park is located in Castelfranco Veneto, in the province of Treviso. It's a permanent circuit built in 1999, considered to be the ideal gym for cyclists. Very popular among MTB lovers, Bike Off Road was designed and built in compliance with the cyclocross technical regulations and is located away from traffic and smog, surrounded by nature, the perfect context to train on an accessible path that is just challenging enough.
Since this is a reclaimed former quarry, the location is particularly suitable for the discipline, as it provides up to 20 metres in altitude difference. The terrain has geological features that allow for this activity to be practiced year-round, including extreme weather conditions. The track is surrounded by tall trees and plants and is right next to a beautiful natural lake: a truly ideal place to train away from the hustle and bustle of the city.
The different routes in the park, all off-road and of varying difficulty levels, develop amidst the vegetation and climb up the steep banks, creating interesting descents. Here, you can even pedal at night thanks to the lighting system.
Bike Off Road is ideal for those who are acquainting themselves with cyclocross, as well as for those who already practice it and want to be in perfect shape at the beginning of the road biking season.
The Quarries of Moncalieri
We are in Piedmont, near Turin, in the municipality of Moncalieri. This is a permanent cyclocross course, free of charge and always open, where, starting in mid-October, many cycling and MTB enthusiasts come together for some tough training and fun. According to those who frequent it, the path in the Quarries of Moncalieri is always clean and well-marked, two very important details for cyclists.
Several provincial and regional cyclocross championship competitions are organized here, proving the value of this course. The circuit is definitely tricky, testing the strength of frequenters' legs.
This route, too, is located in a former quarry and thus includes challenging altitude drops, which is exactly what cyclists who want to train completely and effectively are looking for. Additionally, the track is completely surrounded by greenery.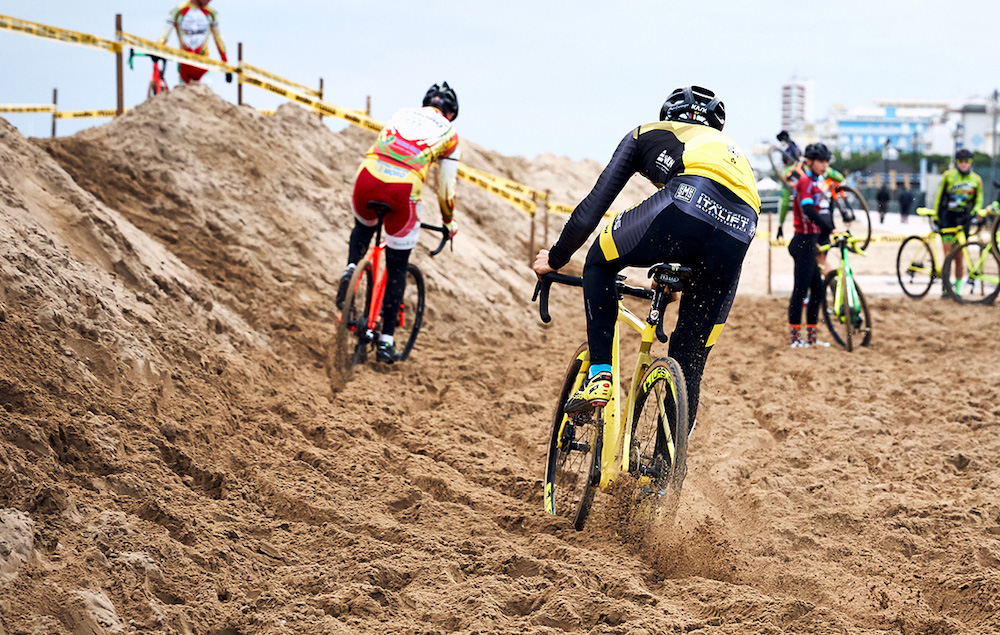 Immersed in the Ciociaria
The natural scenery is breathtaking: an immense green park, with the Ciociaria hills in the background. In Ferentino, in the province of Frosinone, lies Parco delle Molazzete, with its beautiful permanent cyclocross track. The park is located on the outskirts of Ferentino, immersed in the countryside, and was built with trees donated by Legambiente, with a family of volunteers still caring for it today. There are over 300 species of trees and the terrain is ideal for competitions and sporting events such as cyclocross or cross-country racing.
This is a truly suggestive, interesting and challenging route, so much so that it also hosts a leg of the Cyclocross Giro d'Italia. The track has distinct cyclocross features, with long stretches where you can pedal at full force and pick up some speed, with up to 300 metres of straight path, and other portions where the ground is heavier, putting cyclists' leg strength to the test. Adding excitement to the path, there is also a part which crosses the woods, with a challenging climb and a single track, a great mix of exertion and fun.
Useful tips
Who is cyclocross for? It's perfect for amateur cyclists who set aside their road bike in the colder months, as well as for competitive racers who want to be in shape for the start of the new road season. How should you train in cyclocross? It is very important to know that there are substantial differences that set road cycling and cyclocross apart. Cyclocross is practiced on very heavy terrains, which require considerable physical effort, forcing the athlete to pedal almost always above the anaerobic threshold. The duration of a session is much shorter than on the road, but it tends to be more tiring, especially if you are not used to pedalling off-road. In addition, cyclocross bikes are also very different from road bikes: they're lighter, yet very resistant and reactive, and have wider tires.
Here's how a high-level cyclist prepares for international cyclocross races.
Conclusion
These are just some of the many places in Italy where you can practice cyclocross, a widely renowned discipline that started in Northern Europe but that has long been practiced in Italy too. Bike parks, permanent routes and trails in the midst of nature offer the chance to train far from urban life and in all weather conditions. Cyclocross is the best winter training option for cyclists and beginners and an excellent opportunity to get closer to the world of cycling.