There is a new movement that is making its way amongst the two-wheel enthusiasts: The Gravel Bike. But what is a Gravel bike? Why does everyone talk about it? Is this a fleeting trend or do these bikes really meet the needs of use that justify their introduction into the market? Let's clarify it in this article. Gravel Bike, trend or revolution?
How did Gravel Bikes come about? What needs do they meet?
Think about the "L'Eroica" route, with its over 100 km of unpaved roads. Imagine pedaling over 50 km of pavé of the Paris – Roubaix course. What bike would you rely on?
Road bike? Mountain bike? Cyclocross bike? Trekking? Well, as you can imagine, none of these bikes has been designed for the particular conditions described above. Road bikes were designed to ride fast on perfectly paved road surfaces, MTBs are good on particular uneven paths, trekking bikes are ideal for routes which do not require high speeds or for travel with luggage and scenic excursions. What about ciclocross? For this discipline, where athletes compete in close contact in muddy conditions, special bikes have been developed, extremely stiff like road bikes while adding some typical MTB components, such as wide tires, the thru-axle system and the standard disc brake system.
Gravel bicycles were designed exactly to cover this specific market segment. The request of the consumers was counting on a multi use bike, suitable to cover asphalted stretches but able to perform well on unpaved roads or rougher terrains. This was a real need for many: the trend finally arrives (as it so often happens) from the United States, where pedaling on unpaved roads in the saddle of a Gravel bike is part of everyday reality. In the US, in fact, due to the high maintenance costs, almost all secondary roads are unpaved. This has pushed an entire type of cyclists, tired of riding on roads with busy motorized traffic, to make a mass migration toward a more human tailored experience.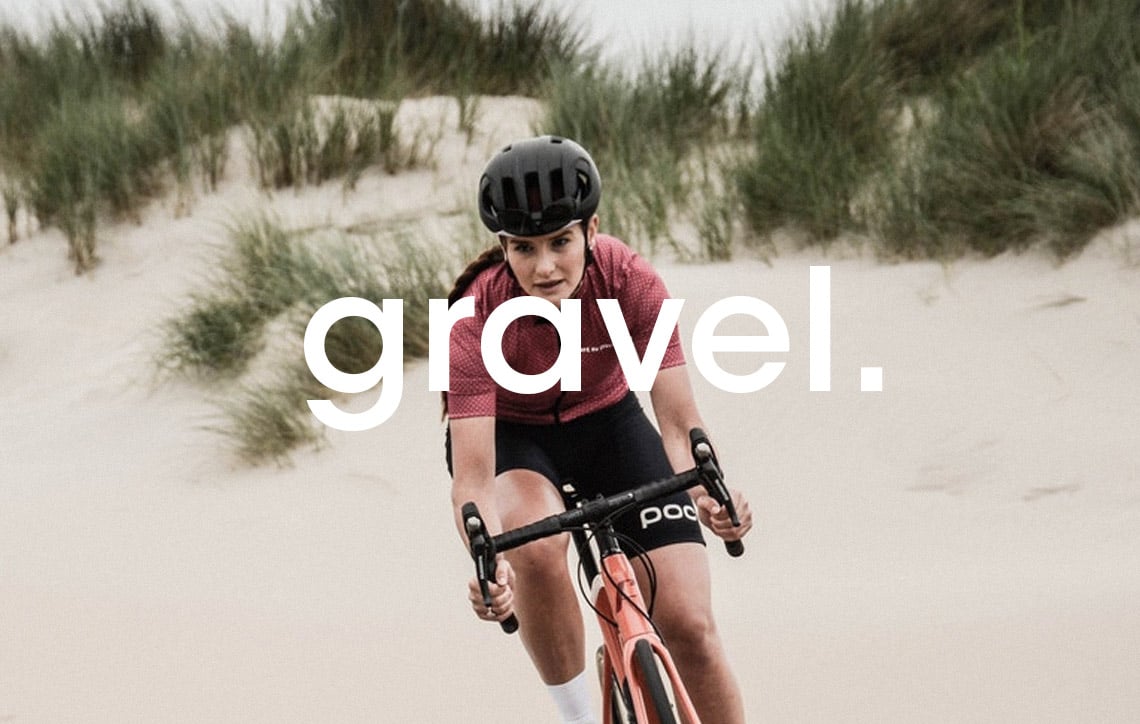 How are Gravel Bikes made?
Imagine a not too extreme road bike Frame, generally comfortable which allows for endurance use. The grip with potentially muddy terrains is ensured by wheels that are, at the minimum, 28" in diameter (find out which model we recommend), with an internal channel which allows the mounting of oversized tires (even with a 40 mm tread). The frame of a Gravel bike is reminiscent of a cyclocross one, but its geometry is less suitable for an extreme competition and a better choice for longer distances. The tubes, therefore, are less vertical, the rear triangle is longer, and above all, the bottom bracket is lower. Since (unlike what happens in the cross style) with your Gravel bike you will not run into the situation of jumping obstacles, this solution was adopted to give the bike a lower center of gravity, which produces better results for increased stability.
The brakes of this type of bike are strictly disc brakes, thus supporting powerful and precise braking, even in muddy or wet conditions. Many Gravel cyclists choose to mount randonneuring style drop handlebars to give them greater riding stability without giving up the various hand positions that a race handlebar provides.
In conclusion
Gravel bikes, trend or revolution? You have certainly understood how Gravel bikes have been designed to allow their use on slightly bumpy roads, yet it is equally sure that their added value lies in offering the possibility of enjoying and having fun on paved courses. Be aware though, that you will never get the performance which you can obtain from a road bike, yet you will certainly be able to appreciate their more than satisfactory cruising speed on country roads or smoother unpaved roads, where road bikes have difficulty handling pot holes and rough terrain.
Remember: depending on the type of terrain you intend to use with your Gravel bike, it will be very important to make the right choice of wheels and tires. Find out more on this subject by reading this post.
In short, we conclude talking about Gravel bikes as truly cross style bikes, which abandon that of the snobbish aura of the latest generation of road bikes to return to the origins of traditional cycling. Precisely for this reason, in our opinion, they are here to stay.