From North to South, passing through the regions of the centre, Italy offers infinite possibilities for those who want to mix tourism with sports and discovery with effort, especially on a bike. Here are some of the most beautiful trails for gravel bike enthusiasts.
Gravel bike: you can go anywhere
It isn't a road bike, nor a mountain bike, nor a cyclocross bike. What is it, then? Simple: it's a gravel bike. The name itself describes its use: it is an all-encompassing bike, great for dirt and gravel paths, but also for asphalt roads. That is to say, it's perfect for paths such as the widely renowned Eroica route.
Here is what it is, how it's made and how the gravel bike trend started.
Bike your way across Italy
While the gravel discipline was conceived in the United States, where there are numerous secondary gravel roads, it is undeniable that Italy also has its fair share of dirt roads that cut through nature, which can be fun paths for MTB, walking or trekking. Italy offers boundless possibilities for cyclists, with mixed-terrain routes of rare beauty. And for those mixed routes there is nothing better than a gravel bike, which can easily tackle any type of road thanks to its wheels and frame. Here's how to pick the right wheels for your gravel bike.
Let's now discover three gravel bike routes placed at three different levels of difficulty.
Experience the thrill of pedalling through the Tuscan Maremma
The first gravel bike path we propose is particularly evocative and full of nature, allowing you to admire breathtaking villages and landscapes. It's located in Tuscany, in the Maremma, on a path starting in Capalbio and going through Orbetello, the Argentario and the natural oases of the Burano lake. From Capalbio to Capalbio, in a low-difficulty 76 km loop, a mix of of asphalt and dirt roads with minimal altitude difference.
Starting from Capalbio Scalo, take Provincial Road 69 in direction Ansedonia, and after a few kilometres you will already be immersed in the wondrous beauty of the Lago di Burano WWF Oasis. This is definitely the ideal place for a quick photographic stop. Thee path continues towards the top of the Ansedonia plateau, from where you can admire the beauty of the Tyrrhenian sea. From here, head towards Feniglia on a 6 km sand tract connecting Ansedonia to the Argentario peninsula.
From Le Miniere, keep going until you reach Porto Ercole and then Porto Santo Stefano. Travelling through nature and history, at this point you will have already pedalled for 50 km. Now, take your gravel bike and head towards Orbetello, a town surrounded by the sea which, with its Etruscan walls, the Duomo, the Guzman armoury and the Siena walls, is the perfect passage route for bicycle lovers, and of course for whoever is eager to discover the beauties of the area.
From here, just a few more kilometres and you will be back in Capalbio Scalo, where the journey started.
A path for all bike lovers, including beginners. This is an itinerary that can be enjoyed from the first to the last kilometre.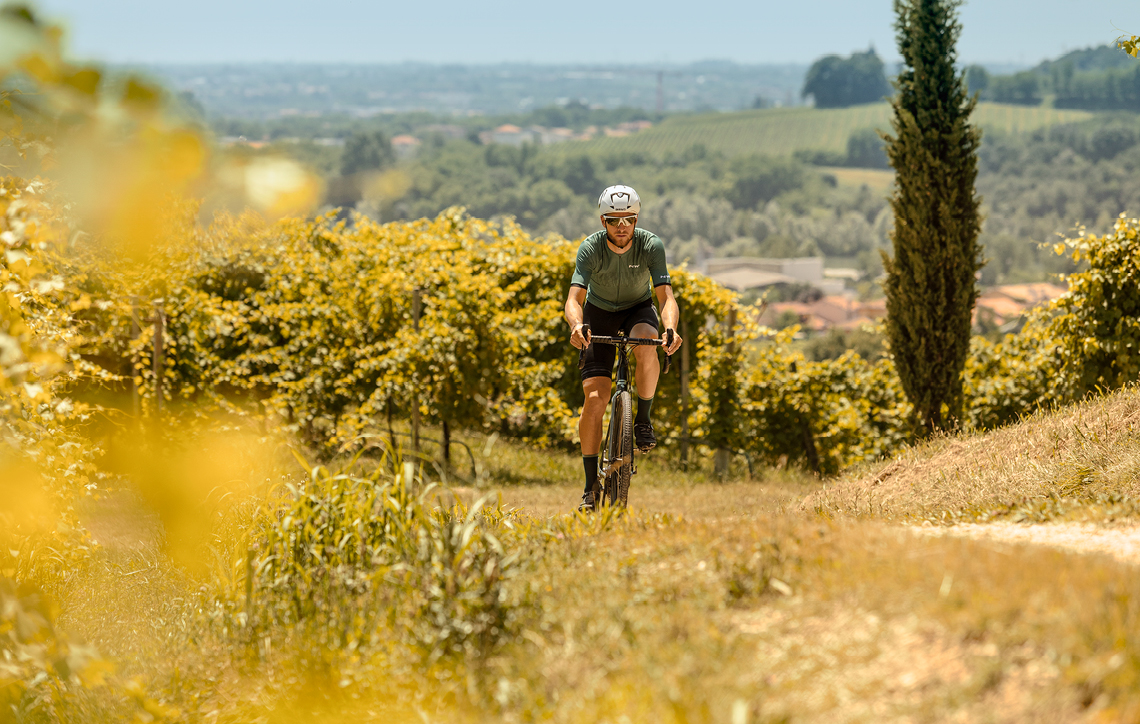 On the Franciacorta roads
Here is a wonderful tour of the Lombardia countryside. It is a 70 km loop with about 100 metres of altitude difference which starts in Val Trompia, reaches Santa Maria del Giogo and returns back passing through Franciacorta.
The route starts not far from the centre of Brescia, from which you can easily reach the Val Trompia cycling path, notable for its placement along the banks of the Mella river.
After about ten kilometres on a 100% gravel road, you will reach the village of Ponte Zanano, followed by a climb on a mix of asphalt and dirt road with a few particularly steep portions with inclines over 20%, which may force you to get off your bike and walk it uphill for about ten metres. Once at the top of the hill, your effort will be repaid when you admire the stunning view of Lake Iseo and Mount Isola.
Continue downhill on a dirt road, passing through the woods and running along Lake Iseo. Cross the municipalities of Sulzano and Provaglio d'Iseo, then take the Brescia-Paratico bike path, in direction Brescia. You will cycle through the Franciacorta region and the towns of Monterotondo, Passirano, Paderno, Rodengo Saiano, Gussago and the Sant'Anna woods, and then finally making your way back to Brescia.
An incredibly suggestive mid-difficulty path, recommended for those who love cycling on dirt roads, in the woods and on bike paths with some asphalt portions.
From Parma to Lavagna, the challenge intensifies
177 km with a total altitude difference of 1500 metres, for a particularly demanding itinerary spanning Emilia-Romagna and Liguria.
The starting point is Parma, in direction of the Taro River Regional Park. Start by cycling for 20 km on a flat path with gravel and a few single-track segments along the river; a fun warm-up! Cross the town of Fornovo di Taro, followed by another off-road portion, and cycle on the ancient Maria Longa road, hailing all the way back to the Longobard era. You will need to really push through on a 12 km crest, along which you will find a few demanding climbs, but nothing impossible, alternating between gravel and clay terrain. Here, admire the ruins of the Roccalanzona castle, then continue for another 3 km of pure gravel road before reaching the town of Maneia, where you will take a downhill path towards the provincial road.
After that, climb for 7 more km on both gravel and asphalt roads, and after a number of climbs and descents you will arrive in the town of Bardi, known for its magnificent fortress perched at the top of a spur of red jasper. At this point you will have reached 80 km, and the best is yet to come!
Now comes the hard part, where you will embark on a climb on gravel all the way to Sarizzuola. Following the road, you will reach the town of Pilati; from there, continue downhill following the Ceno stream and reaching your next climb, with a very challenging first part which later becomes more comfortable. Cycle up to the Penna shelter: here, you will have reached 120 km, and the ascent is not over yet. Through a gorgeous gravel path, you will cross the Penna forest in the breathtaking Aveto Natural Regional Park. The beauty of the landscape intermixes with the feeling of exertion and, for a few moments, pedalling feels easier. Climb some more until you reach the Spingarda Pass, 1551 metres above sea level – the last kilometre before reaching the top will exceed 10% in average incline. Next, there will be a descent, a climb and a final descent. While cycling on the downhill path, admire the lakes of Giacopiane and Pian Sapeio, the beautiful greenery of the Sturla valley, the Zatta massif and mounts Penna and Aiona: a breathtaking sight!
At the end of the descent, take the provincial road, cross the bridges over the Sturla and Lavagna streams and get on the Carasco cycling path. Following the Entella river, you will reach Lavagna, the final destination of this difficult, yet beautiful itinerary.
Not for beginners, this is a route reserved for those who already have a good training base: just challenging enough, with breathtaking panoramas. Ideal for gravel bike enthusiasts.
Conclusion
Gravel is for everyone. This is because the morphology of the Italian territory allows for a great mix of asphalt and dirt roads, varying in length, inclination and difficulty. These roads all have one thing in common, though, and that is beauty. No matter what region you're in, if you want to take your gravel bike on thrilling paths of various difficulties, there are dozens of opportunities for you. And if you are just starting out with a gravel bike, do not hesitate further: wherever you are, you're in the right place.

MIURA TC37 DISC