Let's discover what it's like to ride on the Strade Bianche of Siena with Giulio, a nurse who is passionate about running and, of course, cycling.
Sunday, day of rest. The alarm goes off at 7:00, inflexible. Outside the window, shy rays of sun make their way through the light haze of late winter. A nice breakfast of yogurt, honey and toast is just what I need. I begin my dressing ritual, which is sacred to me. Fortunately, the weather is smiling at me today, so I manage to get it done quickly. I get on my Lyla and pedal towards Buonconvento, 40 km from Siena.
I almost forgot to introduce myself. My name is Giulio, and Lyla is my S-Works. She's been with me since last fall, and it was love at first sight. I must say, I didn't think you could get so attached to a bike in such a short time. Believe me, I was wrong.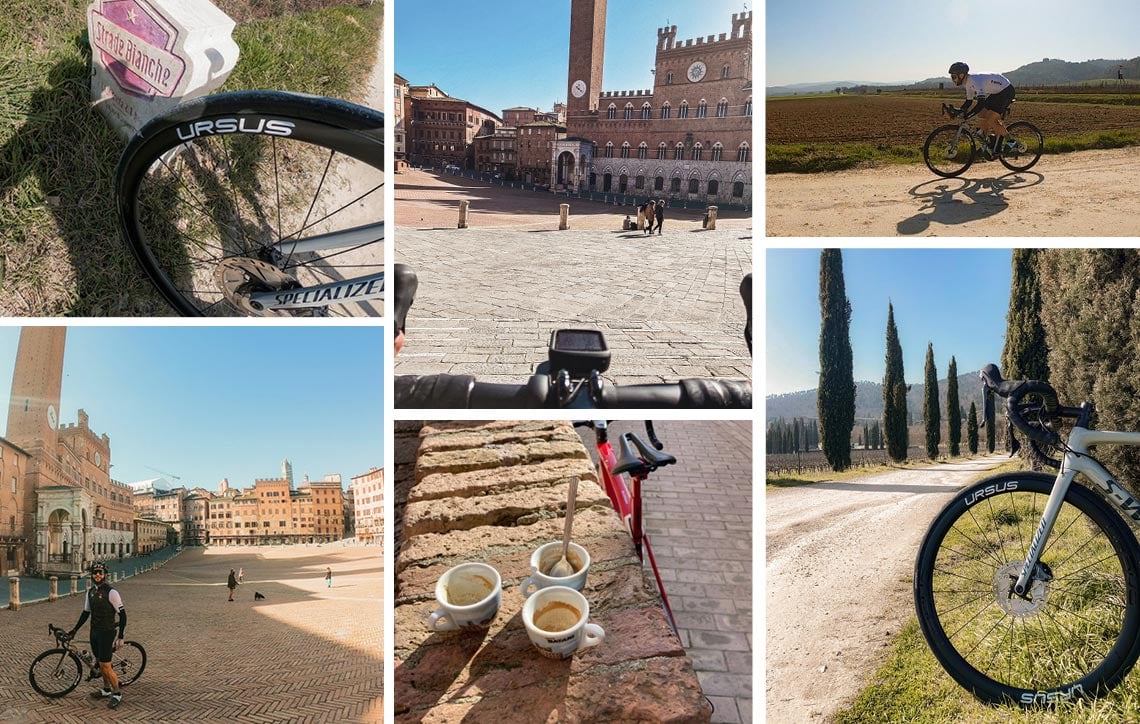 Lyla and I smoothly cover the first few kilometres on the plain. The cool morning air sticks to the skin, I decide to increase the cadence and warm up a little. The fog slowly begins to clear for the first climb of the day, and one of the most scenic stretches I will encounter today. I'm headed for Montalcino, where expanses of Sangiovese vineyards immersed in the Valdorcia will yield another great vintage of Brunello this year.
Once we've arrived, a bit of sadness emerges in finding a deserted town which is usually already crowded with people at this time. I think back to what we deal with every day in the hospital. I am a nurse for a living so, unfortunately, I know what I'm talking about. In my spare time, I have always been a runner, but in the last year I have discovered cycling, which has become a real lifeline for me, a passion that has helped me to get out of my head. With a sigh, I chase away the melancholy, determined to enjoy every moment of freedom that these stunning places have to offer. Today is a happy day, I tell myself, biting into a sweet treat that I saved. This way, I take back some of the calories I've lost, and I am ready to resume my ride.
We take on the first few kilometres of the Strade Bianche route, from Montalcino towards Castiglion del Bosco; the sun begins to get hotter and the Valdorcia offers postcard-worthy panoramas. The pro route is a 180-km track of about 3000 vertical metres, with climbs that are not too long, and 65 km of dirt road divided into 11 very tricky sectors, with continuous ups and downs including steep inclines that are a challenge even for daredevils. Launching headlong into these curves with 15/16% of altitude difference is not for everyone. Among the stretches where you need to pay more attention are Monte Sante Marie, Le Tolfe (where last year Van Aert broke away from practically everyone and won), and S. Martino in Grania. The various sectors have a few km of asphalt in between, which I use to recover, but for the pros they're just for pushing harder: 180 km, experienced all in one breath. Whoever wins Le Strade Bianche closes the race around 5 hours, but for us mere mortals it will take at least double. A nice healthy outing.
Today, I don't feel fit to challenge Sagan and his teammates just yet. So, I enjoy the 20 km of pure unpaved roads that I can run on the path of another famous event: the Eroica. I can feel the dirt road, dusty under my Ursus wheels.
Many have asked me why I have made this choice: before my current bike, I had approached the practice of cycling with a Specialized Tarmac SL6, however later I realized that cycling would become a fundamental part of my life, so Lyla arrived. But the frame of her S-Works had to be accompanied by a wheelset with the same characteristics of lightness and smoothness, right? I took the time to read many features, browsing the web, before choosing the right product for me. The Ursus Miura TC37 disc impressed me for two reasons: one, ceramic hubs. Two, very good weight despite the 37 mm profile. And then, they used them at the Giro, I said to myself… wouldn't I be able to use them too? :) Best choice ever: they are incredibly smooth (even though I am not an expert, I can feel the difference), and aesthetically they are very beautiful on my Lyla.
In the meantime, I continue to pedal, while the effects of the legendary Tuscan feasting and drinking start to kick in. But we're only halfway through my 110 km with 1600 vertical metres. Not bad for a day off, right?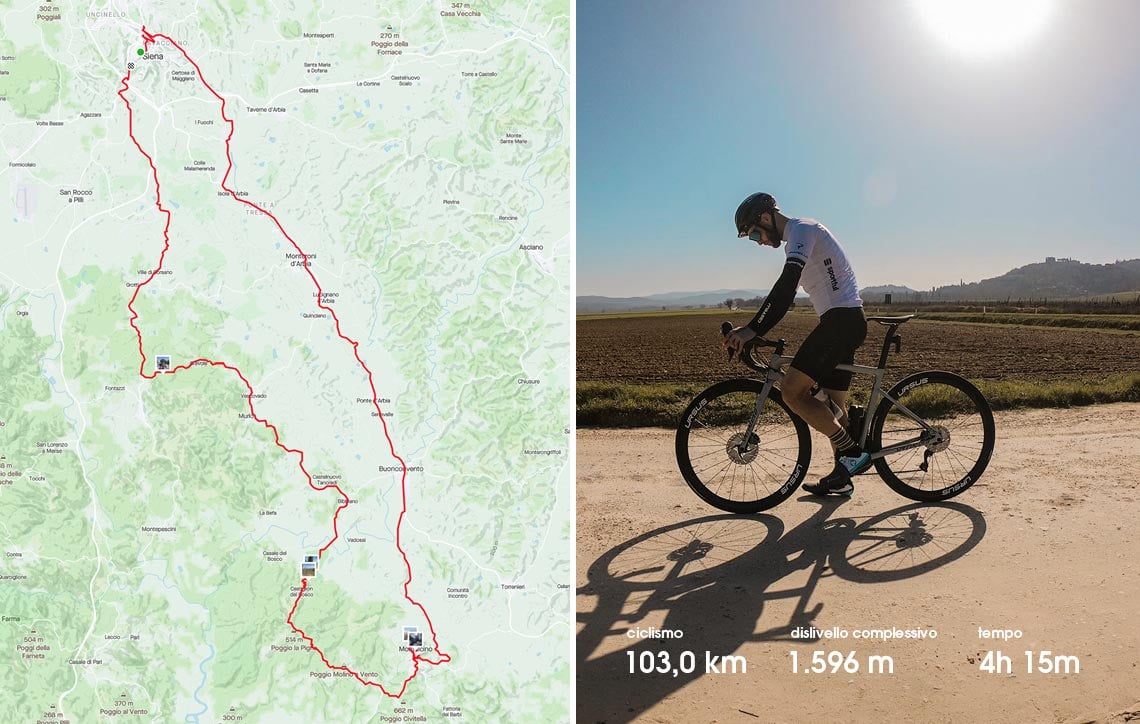 We turn back towards Buoncovento then taking the provincial road that leads to Vescovado, Murlo, Lupompesi, and from there we return to Siena. Returning to the city, I look back over the images of great champions such as Cancellara, Ballan, Valverde and Van Avermaet, all people who raised their arms to the sky right in Piazza Del Campo. There is only one word that can describe the emotion I feel while following their same roads, those of my home, tracing their arrival in one of the most beautiful finish lines in the world: satisfaction. Yes, when I return home after having covered hundreds of kilometres of asphalt and stretches of dirt roads, that's how I feel. Satisfied, happy and useful to the environment. Because those who practice sports this way respect it in all its forms.
I don't need plane tickets, I tell myself. Two wheels are enough, and I can travel every day.
Discover Giulio's route through Tuscany's strade bianche