Cyclocross is a discipline which puts tires and wheels to the test. Soil, rain and mud will not spare your bike; this is why it is fundamental for a cyclo-crosser to always keep up with the maintenance in a timely and correct manner. If you're planning on tackling muddy roads, you may find the next suggestions quite helpful.
Now that the winter season is in full swing, we are also getting closer to the most important events in the international cyclocross landscape. When road races are not in season, cyclocross becomes, for many professional cyclists, a great occasion to continue training and keep up with the rhythm in preparation for spring. But cyclocross is much more: athletes such as Van der Poel and Van Aert are proving that obtaining results in this specialty as well as on road racing can redefine the image of a more modern, across-the-board rider within the international cycling sphere. Thanks to this new visibility of cyclocross, more and more cyclists (including amateurs) are familiarizing themselves with muddy circuits, preparing to jump obstacles and to take on segments on foot while carrying their bike on their shoulders.
It goes without saying that all this requires bikes equipped with dedicated components, which can suffer if used in extreme conditions. Gears, wheels and tires need to resist rain, mud and sediments that can gather and, in time, negatively impact their performance.
The solution? Proper maintenance
Timely maintenance can prolong the performance of your components. This is true for both road and off-road bikes such as this one. Do better cyclocross wheels need any particular maintenance? Let's have a look at the best practices you should adopt.
Cleaning cyclocross wheels
Cleaning the wheels is important to ensure good performance of all their components, but also to allow you to check that there aren't any visible tears on the surface of the rims.
After a ride, remove the wheels from your bike and clean off the bulk of mud and debris with a low-pressure water jet, such as a common garden hose. We advise against using a power washer, since its strong jet can damage the components. While the wheel is still damp, wipe the spokes and the hub with a sponge and some neutral soap. You can then dry off the wheels with a clean cloth or some paper.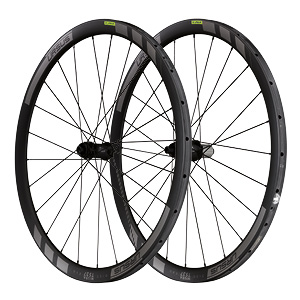 Cyclocross wheels: visual check and component cleansing
Next, proceed by checking that the wheel is well-centered, to verify if a hypothetical impact has deformed the rims. This is an operation both fundamental and delicate, which is why we recommend that a mechanic perform this check, using the right equipment to ensure the safety of the wheel. If you are an amateur cyclist and not a mechanic, we recommend you visually check the surface of the rim for tears and signs of damage. In such a case (which of course we hope you won't experience), you should contact a professional to replace the rim.
After making sure that the rims are in good condition, the next step is to check the gliding ability of the bearings. This check-up can be done by simply spinning the wheel, to verify that the movement is smooth, without any blockages or stalls. If the bearings don't work as smoothly as they should, they must be removed and replaced. Changing the bearings might seem simple but if you aren't experienced, we recommend that you contact a professional. This way, you will benefit in performance.
Continue with the same kind of test to verify that the freehub body runs smoothly. If the movement isn't very fluid, remove the sprocket set and wash it with soap and water. You can use a brush to remove any residual dirt that may have lingered on its surface.
Then, remove the freehub body from the hub and clean it with soap, water and a small brush. Apply a small amount of grease inside the body and put it back on. If the body is worn and the bearings inside it aren't working smoothly, we recommend replacing the entire cassette.
Professional cyclocross bikes have a braking system which uses discs and thru axles. The two thru axles must also be checked to ensure their perfect operation. This step is very important to prevent any mishaps during a race, especially when changing wheels in the pits (perhaps some dirt has entered inside the axle slot, making it more difficult to remove). Clean the slot inside the hub axle by wiping it with a cloth from one end to the other, and lightly grease the thru axle before putting it back.
The last phase of the maintenance is checking the bonding of the tubulars. Here, too, we recommend that you visually check the entire wheel for any areas where the inner tube may have unstuck, possibly compromising wheel performance at the next use. Make sure that the tire treads are in good shape and, if necessary, replace them.
We can make the job easier for you: the Miura TS37 EVO disc have durable, smooth rims and have been at the forefront in the best international cyclocross tracks for several years. By choosing our cyclocross wheels you will have a pair of well-performing and reliable wheels, but we recommend that you still make sure you give them proper maintenance to maintain their technical attributes.
Conclusion
What is the correct maintenance for cyclocross wheels? As you can see, many of the steps described are also valid for the proper maintenance for racing bike wheels; however, the large quantity of dust and mud on cyclocross tracks requires you to pay more attention to keep your wheel components clean. The more methodical you are in following these suggestions we have shared, the longer you will be able to enjoy a pair of wheels that perform at their maximum potential.