A chat with the Italian triathlete who competed at the Olympic Games in London in 2012 and in Rio de Janeiro in 2016, to better understand what it means to practice at the highest-levels of triathlons. What is the difference between triathlon and ironman? How does a professional triathlete train? What are the gears used in the sport? Let's find out together with Davide Uccellari.

Davide enters Ursus accompanied by his father, his first fan, who follows him on every outing. A quiet guy, our Olympic triathlete: from his words, one can perceive how much passion and how many sacrifices are needed to practice for triathlons at the highest levels while achieving steady and consistent results.
Who is Davide Uccellari?
First of all, we ask personal questions about himself and his training in general and also about how he first approached this multisport activity. Confidently, Davide explains how he entered this sport for the first time when he was two years old and how he never left it while practicing over time other sports such as running and athletics. After swimming, running is his second greatest passion, he participated in his first running race when he was nine and then, little by little, he started to mix his abilities, gradually adding bicycling as well.
"For a triathlete, the swimming component is a fundamental skill ", Uccellari explains, "because if you can keep up with your opponents in the water and then make a good transition to the bike, you don't give the group a way to escape. If the group takes off on the bike before you, it then becomes almost impossible to recover. A triathlete with a strong performance in the pool will surely be more difficult to compete against".
Davide practices Triathlon on Sprint distance and on Olympic distances, an activity which led him to represent Italy at the Olympic Games in London in 2012 and in Rio in 2016, as well as winning two golds and four silver medals at the National Championships. About his participation in the Olympics, he tells us: "It was crazy to see the number of fans following the triathletes. In Italy, this sport is not followed very much, as it is a sport of Anglo-Saxon origins, but in England it was fantastic to compete against the best in the world with this frame of an audience. A unique emotion."


Triathlon according to Davide Uccellari
Triathlon and Ironman, distances and differences.
We were very curious to know what Davide Uccellari thinks about the Ironman, one of the most popular triathlon segments at the global level of outdoor sporting. Why did he choose to practice the Sprint and not the Ironman? Is he planning on trying to do some races in the future in this sport?
"The fundamental difference between the Ironman and the Olympic Triathlon Sprint are the distances, which are greater than in the Ironman" Davide replies. "Personally, I have not yet faced Ironman distances. At a competitive level, the real dream for a triathlete are the Olympics, where one swims 1500 meters, bikes for 40 km and runs 10 km. These relatively short distances, make performance the real focus of the competition, that is the placement obtained at the end of the race. So, the selection of the athletes becomes narrower, basically one must go through qualifications and rankings. You can also utilize drafting during the biking section.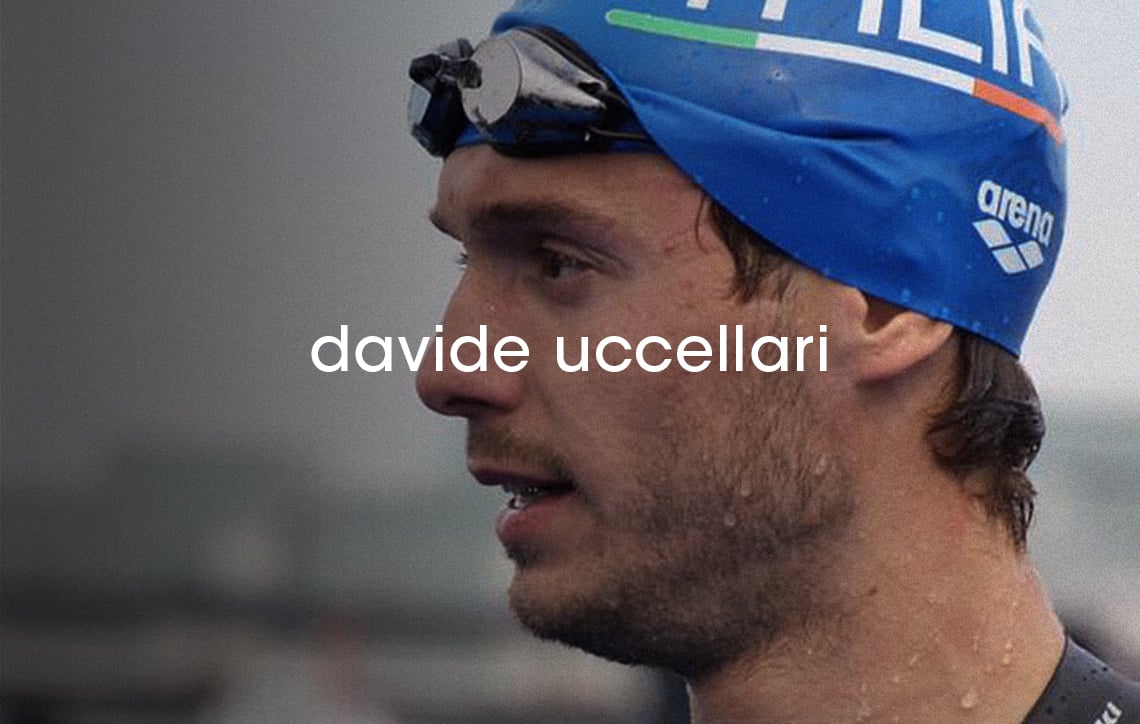 In the Ironman, the philosophy is quite different: one travels over much longer distances, we are talking about 3800 m in the water, 180 km of cycling and 42,195 km on foot. Obviously, the enormous effort required to complete the race becomes in itself the performance that the triathlete strives for. The Ironman is thus born as a dream or a challenge against oneself rather than pure competition with other triathletes. In the end, what matters more is the time you have achieved rather than the position in the final rankings. For now, I decided to focus on Sprint distances. Maybe in the future, at a different point in my career, I might also think about trying the Ironman dream".
Triathlon: training and nutrition.
How does a champion like Uccellari train? Davide explains to us that in Italy it is not easy to find structures ready to conceive Triathlon as a sport in itself, rather than a joining of swimming, cycling and running.
"For those starting out, it's not really easy. There are no dedicated sport associations that participate in the races, it is necessary to travel a lot of kilometers throughout the entire country, joining sport groups like Fiamme Azzure. I have often trained with different coaches to take care of the different components. My training partners, often, are not triathletes but cycling professionals rather than athletics ones. The ideal training regime would certainly be to work in a more specific way: to achieve this, I try to participate in training camps around the world. It happens especially when I go to the Nationals, where I am able to find more suitable technicians and organizations."
"In a training session level – continues Uccellari – a triathlete normally trains 25 hours per week, alternating strength or deload at the gym and pool with basic cycling or walking activities. A daily session typically involves 2 hours of training."
We think that to support this training pace, one will need a balanced nutrition. This becomes the question to our Italian athletes. "It is important to divide the calorie intake into several times throughout the day. To then, the three main meals, I add a mid-morning and mid-afternoon snack. Additionally, during training or a race, I bring with me some gel supplements dissolved in water. I do not have a large breakfast, as one may think: no eggs, for example while I prefer yoghurt and toast with jam. It helps me to stay lighter to then take on the day. On a race day, instead, I eat something more at the mid-morning interval in order to be ready and perform for the start of the race, which is usually set for noon."

Triathlon: difficulties.
What are the biggest difficulties for a triathlete in a race? Davide Uccellari points the finger at the time of the swimming-biking exchange. He explains to us how important it is to prepare the position and the attention to be given in order to avoid incurring penalties.
"An error in setting up the equipment, a defect in my system, could mean saying goodbye to the dreams of glory and winning the race. At the beginning of my career, I had some difficulties entering in the correct perspective of the regulations, then with practice it certainly becomes simpler. For the younger athletes, I recommend dedicating some time studying the equipment and the rules of use. In triathlon, details can be those which allow you to win or lose the race."

Triathlon: equipment.

What kind of equipment does one need to practice for triathlons? 
"In terms of clothing, one needs a triathlon suit and a wetsuit, along with running shoes with special elastic "speed laces" and cycling shoes with Velcro straps for quick transitions. Then one needs a swimming cap and goggles. Last but not least, obviously is the bicycle! There are very aerodynamic chrono models with high-profile rims designed specifically for triathlon, although the current trend in the Sprint is to use less extreme bikes, with medium profile wheels which, in my opinion are the best technical choice. For example, I use the Ursus Miura TS47 Evo or the Miura TC37. During training, instead, I prefer the Athon in aluminum."

In conclusion
We talked about triathlons, distances and training with Davide Uccellari. It has been a nice afternoon where we could understand how a triathlete of his level trains, what the nutrition guidelines are and what the technical needs he has about his equipment. Thank you, Davide, and good luck with your next challenge!