Can a wheel boost the speed of our team riders while at the same time reducing their fatigue in competitions such as the Giro d'Italia? Can a carbon rim be used on both mixed and endurance stages? Miura TC racing bike wheels are a true surprise for the next Giro d'Italia – and they keep it stylish.
Professional riders' performance requirements are rather high – as we know, every minute detail for them can make the difference between victory and defeat. For this reason, when it comes to racing bike wheels, assessments need to be strict and serious.
Let's begin by saying that, until a few years ago, cycling rims were very different from the ones we see today on the roads of the great European tours. While manufacturers used to focus their attention on extreme performance, today comfort and safety have become much more important. Disc brakes, for example, have virtually retired the V-Brake: this evolution means shorter braking times, as well as a somewhat different riding style for racers.
Another example are rims, which have progressively been moving past aluminum. Indeed, even for intensive training, cyclists in professional teams rely on the quality of full carbon rims.
Why is this happening? Simple: the new wheel models combine the rigidity and lightness of the best carbon rims with an unprecedented level of comfort for this type of product. The result of this equation is a wheel similar to those of our TC series: an all-rounder.
Mixed route today, great classic stage tomorrow? No problem
It often happens during the Giro d'Italia: one day we take on a stage with a fragmented route and a possible sprint finish, the next day it's a Classic Northern style race that awaits us. Which wheels do we choose? With the TC series, the teams Bardiani CSF Faizané and Vini Zabù KTM will be ready for the challenge.
The distinctive features of these rims are two:
Tubeless and clincher. This technical solution allows for the installation of both kinds of tires. For example, you can choose the comfort of a clincher for your training sessions, and then switch to a high-performance tubeless when race day comes.
28 mm internal diameter. You will have the option of equipping your bike with 28 "or 30" tires, wider than normal, which will help to increase stability and comfort on endurance or unevenly paved routes.
As you can imagine from this introduction, the TC series rims are extremely adaptable to different routes. With tubeless tires, professionals can be competitive on asphalt without worrying too much about getting a flat. The following day, they may need to tackle a path on cobblestones or gravel: grip is increased by simply lowering the tire inflation pressure, while cushioning roughness of the gravel. In short, TC adapts to any situation.
How about performance?
We certainly haven't forgotten about it. The aerodynamic profile in the TC series rims is designed based on aeronautical NACA 0027. The carbon fibers are aligned following a specific wrapping process: this allows the ideal distribution of the material, which makes the structure of the wheels very light and extremely balanced. All variants are fitted with the latest model of Ursus aluminum hubs. A concentrate of technology, precise to the micrometer, emphasized by the presence of extra-smooth ball bearings.
These are true technical masterpieces for professionals: in their "disc" version, they add to the list of their qualities the most reactive and effective braking, ideal even in rain or wet asphalt conditions.
There are three profile sizes currently available.
Miura TC37 / Miura TC37 Disc
In their 37 mm version, these wheels maintain high performance on both long-distance tracks and mixed routes. They responded very well to our tests even on gravel and in wet conditions, demonstrating great stability. They are available in the V-brake version (Miura TC37) and in the disc brake version (Miura TC37 Disc).
Miura TC47 / Miura TC47 Disc
The new 47mm profile has been tested this season by champions who use Ursus wheels and has stood out during the Tour de France. It is a solution which lies in between the lightness of the Miura TC37 and the aero-suspension of the Miura TC67, with a remarkable response on mixed routes. These wheels are also available in the V-Brake or Disc version.
Miura TC67 / Miura TC67 Disc
The 67 mm version ensures a strong aesthetic impact on the bike, but of course this is not its main argument. These are wheels designed for high performance in time trials, in which the aerodynamics of their GOE 775 Airfoil profile allows to minimize resistance to headwinds. Even crosswind situations are no longer a problem, sliding by without destabilizing the vehicle. Even here you can choose the Miura TC67 V-Brake version or the Miura TC67 Disc version.
Miura TC series: special adherence for the Giro d'Italia
This product is not only about comfort and performance: Ursus has always stood out when it comes to style, offering bespoke products that can be personalized by customers. In this case, to celebrate the participation in the Giro d'Italia alongside two Italian teams, we decided to embellish the wheels with the colors of the teams Bardiani CSF Faizané and Vini Zabù KTM. The resulting two exclusive and colorful graphics can be purchased exclusively online, by visiting our official shop.
Conclusion
Ursus Miura TC series wheels. Comfort, ductility and performance for the bikes of teams Bardiani CSF Faizané and Vini Zabù KTM. We have kept our promise and revealed the secrets of a wheel series that can accompany our teams on different types of tracks while maintaining maximum performance. The Miura TC37, Miura TC47 and Miura TC67, in their Disc and V-Brake versions, are superior in reliability, control and are even suitable for the Giro d'Italia.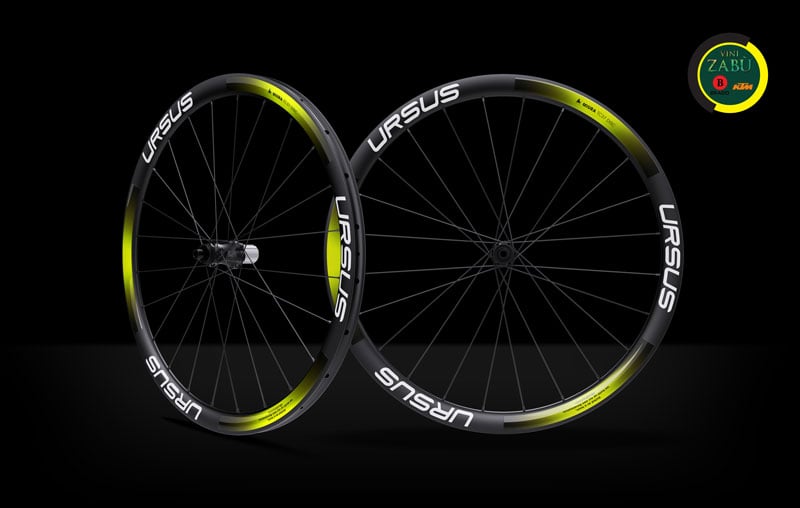 MIURA TC37 SPECIAL TEAM EDITION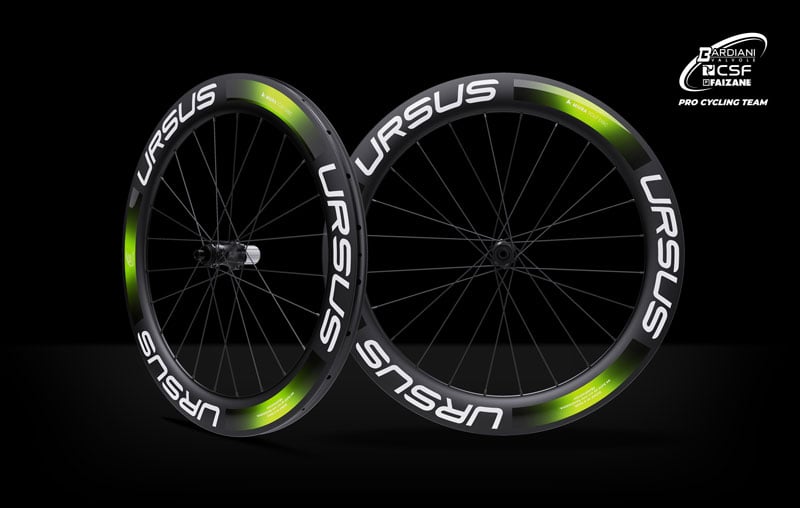 MIURA TC67 SPECIAL TEAM EDITION